Boy Scout Troop 420
Boy Scout Troop 420 is a boy led troop sponsored by the Laurinburg Presbyterian Church since 1930. Troop 420 provides a traditional scouting program with the historical scout emphasis on duty to God and character development. We serve boys ages 11 to 18 and encourage parental involvement in all of our activities.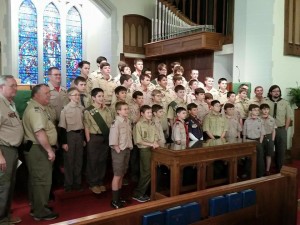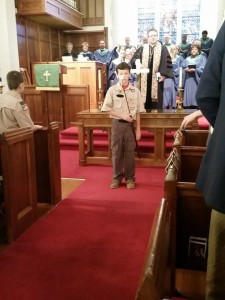 Scout Sunday at LPC is usually the first Sunday of February. Neal preaches the sermon but the rest of the service is completely lead by the Scouts from Troop 420. 
Scouting helps youth develop academic skills, self confidence, ethics, leadership skills and citizenship skills that influence their adult lives. While various activities and youth groups teach basic skills and promote teamwork, Scouting goes beyond that and encourages youth to achieve a deeper appreciation for service to others in their community. Scouting provides youth with a sense that they are important as individuals. It is communicated to them that those in the Scouting family care about what happens to them regardless of whether a game is won or lost. Troop 420 meets weekly during the school year on Tuesday nights from 7:00pm to 8:30pm at the Hut located at Presbyterian Park across from the church. We have a strong camping program which includes monthly camping trips and backpacking. Our older Scouts take advantage of high adventure treks at Philmont Scout Ranch, Cimarron, NM and Northern Tier High Adventure Canoe Base, Ely, MN.
Cross Sellers Earns Eagle Scout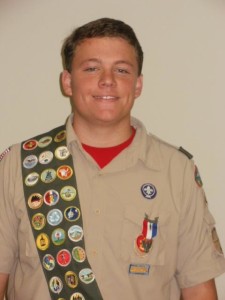 Boy Scout Troop 420's fall court of honor on Tuesday, September 22, 2015 recognized its 155th Eagle Scout in a ceremony honoring Samuel Cross Sellers. Sellers is the son of Gray and Bette Sellers. He is one of approximately four percent of all Boy Scouts who attain the Eagle rank, according to Troop Committee Chairman David Harling. Requirements for the Eagle rank, attained by fewer than 4% of Boy Scouts nationwide, include earning at least 21 merit badges and demonstrating ideals of service and leadership, including organizing and leading an extensive service project. Sellers' service project focused on a number of tasks at the Scotland County Humane Society. During the ceremony, Scoutmaster Gus Purcell presented Sellers with his Eagle Scout certificate and presented the traditional Eagle Charge that charged him to be honorable, to be loyal and to be courageous in life. The Eagle Scout award is the highest rank attainable in the Boy Scouting program. Since the first Boy Scout earned his Eagle award 100 years ago in 1912, the distinction has been earned by more than two million
young
men. On Sunday, February 14, Gus Purcell, II received the 156th Eagle Scout. Gus is the son of Gus and Angela Purcell, and grandson of Dr. Bill and Kathleen Purcell.
Sponsored by Laurinburg Presbyterian Church, Troop 420 presented its first Eagle Scout award in 1932.
Every summer in July our Scouts go to Raven Knob Scout Camp near Mt. Airy, NC for a week of camping and Scouting activities.
The pictures below show some or what we did this year.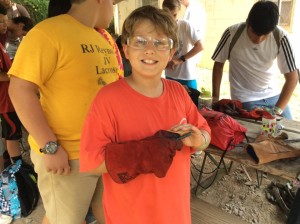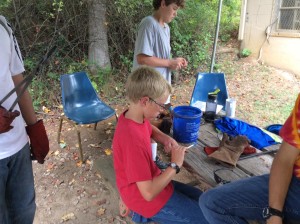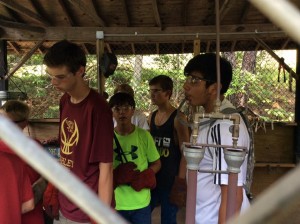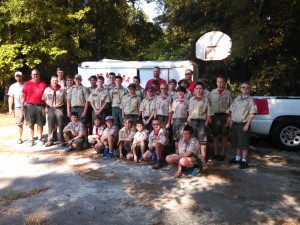 For more information about Boy Scout Troop 420, contact: David Harling, Troop Committee Chairman david@davidharling.com or 910-276-6072 Or visit
www.bsatroop420.com